Grumman (GM) FM-2 Wildcat N4629V (c/n 5618)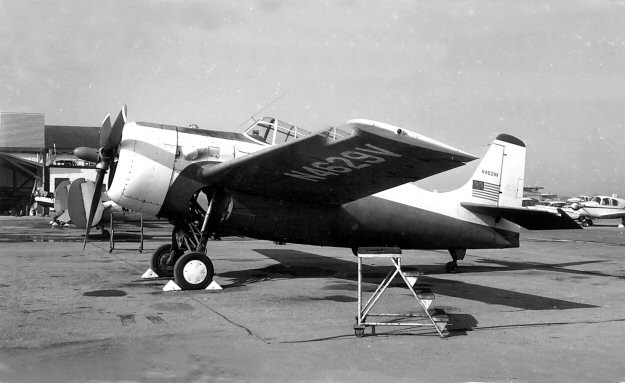 In order that Grumman could devote resources for the development of the F6F Hellcat,
General Motors, in 1942, was tasked with producing both F4F Wildcat and TBF-1
Avenger aircraft for the US Navy. By 1943 Grumman had evolved the more powerful
XF4F-8 variant of the Wildcat and this was produced in numbers by GM as the FM-2.
Many went to the Royal Navy's Fleet Air Arm where they were known as the "Martlet".
The above is an example of one of these, BuAer 86564, civilianized in 1948. Notable
difference from the earlier Wildcats was the taller fin and rudder to compensate for the
the additional power provided by the 1,350 hp Wright R-1820-56. This machine is
still in existence and resides at the Yanks Air Museum in Chino, California (suitably
painted as a WW II fleet fighter). My shot shows it in 1962 at Van Nuys, sans all
military markings.