Fairchild PT-23A N58526 (c/n )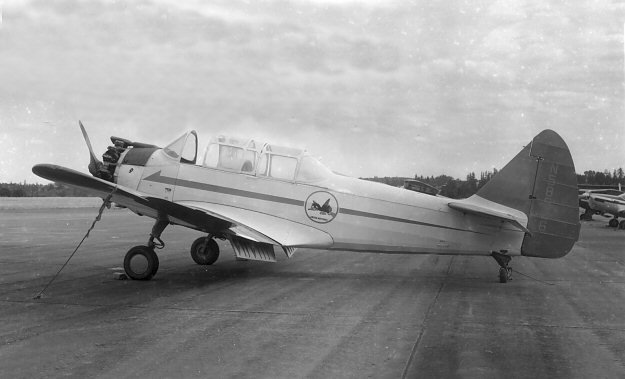 By 1942 the Ranger engine which powered the likes of the PT-19 and UC-61 was in such
demand and short supply that a version of the PT-19 powered by an uncowled Continental
radial engine was produced, resulting in the somewhat ugly derivation pictured above. Many
found their way onto the civil register after the war and N58526 (the rego is decipherable on
the original negative) was one of them, photographed here at El Monte Airport in the early 1960s.
Records indicate that this machine was originally built in Canada by Fleet (they only made 93
of them) and allocated RAF serial FV142, but carried RCAF serial 15043. It was returned to
the USA after WW II in accordance with Lend Lease terms.
The owner of N68359 below (a TWA pilot?) cowled the engine on his PT-23, giving it a some-
what different look again. Strangely, the history of this machine is given as also being built in
Canada as a PT-26 (RAF serial FH980) and taken on charge by the RCAF in 1943. However,
this is at odds with FAA records which show that this was a Howard built machine, and that it is
in fact (incredibly) still on the register. . Assuming it

was

a Canadian built aircraft, it would appear
that the variants produced north of the border were the preferred examples. Maybe Fleet did a
better job?