Fairchild PT-19A N52303 (c/n T41-662)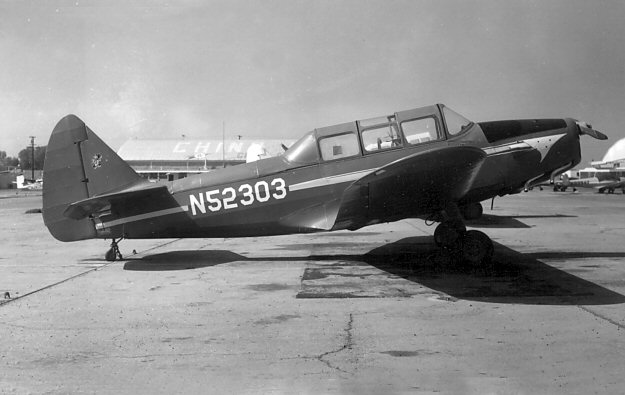 In 1939 the US Army Air Corps decided that ab initio pilot training should shift from the then
traditional biplane to monoplanes with higher wing loadings, thus giving cadets experience
more closely resembling the fighter aircraft to which they would later graduate. Evaluation of
Fairchild's M62 design led to substantial orders of the same basic airframe in three variations:
The PT-19, with a 175 Hp Ranger L-440-1 inverted in-line.
The PT-23 with an uncowled Continental R-670 radial and
The PT-26 (basically a PT-19 built in Canada with a 200 hp Ranger).
The machine above is a PT-19A, formerly the USAAC's 41-14724, where it served at West
Point.. It went to the RFC at McKellar Field, Tennessee in August of 1944. This aircraft was
written off in a crash at Joshua Tree Airport, in the Mojave Desert, in 1967 when it undershot
the landing strip and hit power poles. My shot was taken at Chino in 1962.