Douglas C-47A-30-DL Skytrain N44585 (c/n 9568)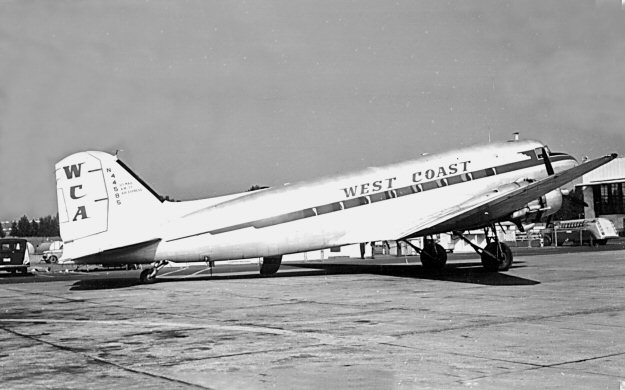 While many ex C-47s became executive transports, by far the greatest majority
of course, found their way into the airline market. This example was operated by
West Coast Airways, a forerunner of Air West, later Hughes Air West when the
eccentric entrepreneur bought it, which in turn was merged into Republic Airlines.
Republic was eventually gobbled up by Northwest. And Northwest? Well they,
like just about all the airline names we remember, will probably go belly up 'ere
long. (I am writing this in October 2005). Anyway, back to our DC-3. It was
built as a C-47A-30-DL at Long Beach in 1943 (to a 1942 contract) with serial
number 42-23706. It was civilianized in 1946 and went directly to West Coast.
When this shot was taken at SFO in the late 1940s the CAA had just changed
the US national registration letters from "NC" to "N". All West Coast did was
obliterate the "C", leaving the "N: offset. N44585 was sold off when the airline
purchased Fairchild F-27s, and it was still around into the late 1970s, as a corp-
orate aircraft.