Douglas C-54E-1-DO Skymaster N45344 (c/n 27263)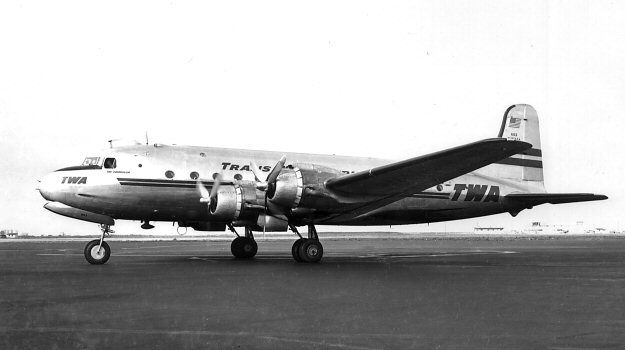 Like the C-47, the C-54 found a ready market, post WW II in the airline industry. This aircraft
was built in 1944 and delivered to the USAAF as 44-9037 in February of 1945. After only six
months service it was released to the Reconstruction Finance Corporation who sold it to Trans-
continental and Western Air as N45344 "The Coliseum". (The corporate name was changed to
Trans World Airlines in 1950). TWA operated it on their trans-Atlantic routes from New York
to Paris and Rome. It led a colorful career after TWA disposed of it in 1959, including service
in Panama (as HP-311) and the Leeward islands (as VP-LAH) in between stints back in the US.
It finally came to grief when it overran a landing strip at Monroe Station in the Everglades of
Florida (a drug run?) in 1977. It was registered N174DP at the time. My shot shows it nice
and pristine at La Guardia in the late 1940s.