Douglas A-24A (SBD-3) Dauntless N9142H (c/n 2350)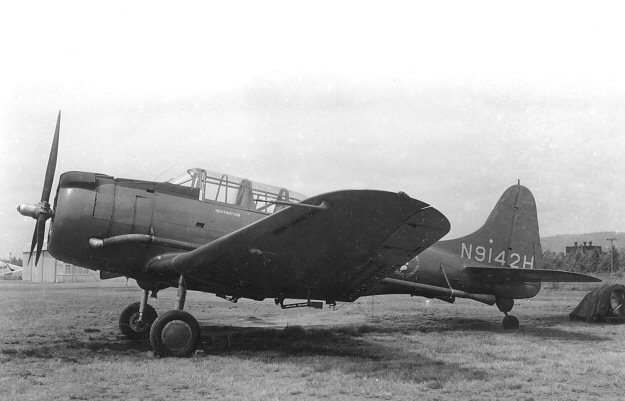 This particular Dauntless was built as an A-24A for the US Army Air Corps with serial number
42-60817. It was identifcal in every respect to the US Navy's SBD-3 dive bomber except that
it had no deck arrester hook under the tail and also incorporated the Hamilton Standard Hydro-
matic propeller. . My shot was taken in 1956 at the Cable Claremont Airport in Southerrn
California, although the aircraft, at the time, was operated by the City of Portland Mosquito
Control. Possibly it was on loan to a So Cal municipality. In 1965 it was re-registered N15749
and went to the USMC Museum at Quantico in Virginia. It didn't stay there long but went to the
US Navy's Aviation Museum at Pensacola, Florida from 1966 to 1995. It was then transported
(by road) to the Tillamook Air Museum in Oregon, where it is currently resident, registered N5254L
and all decked out as a US Navy SBD-3 "2-S-12".