World Wide Airlines Douglas DC-4 N79999 (c/n 3090)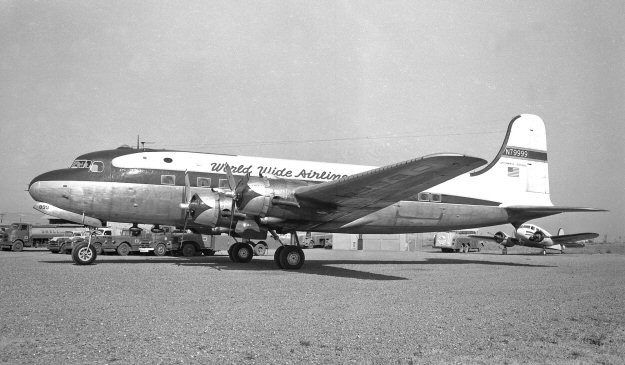 N79999 was a former US Overseas Airlines DC-4 leased to World Wide in July 1957 where this
shot, at Oakland, California was taken. Originally a C-54A-DO it had been civilianized for Sea-
board & Western Airlines in 1947 as a freighter. World Wide had been formed in 1948 by Eric
Pearson as Pearson-Alaska Airlines. It operated cargo and passenger charter operations and had
some military contracts. It maintained a base in Anchorage in addition to its Oakland facility. It was
one of several carriers classified by the CAB as a Supplemental Airline, that fact being broadcast
on the tail (see below). In the early 1960 it branched out to include low fare irregular coast-to-
coast passenger service. In addition to DC-4s the airline also flew Curtiss C-46, Lockheed
L-749 and L-1049 equipment. World Wide folded in 1962.