World Airways Douglas DC-4 N59952 (c/n 10528)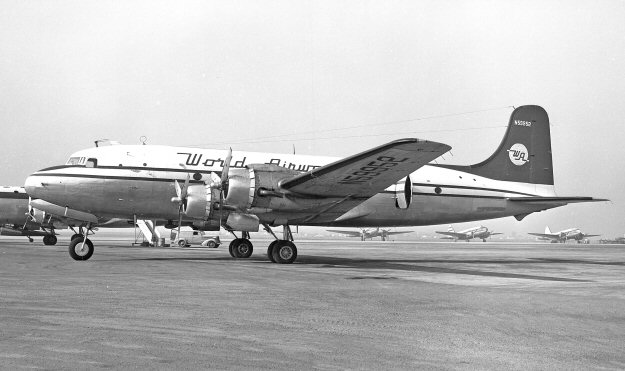 World Airways, which today is a large charter concern, is the only (to my knowledge) continuously
operating 'non-sked' from those early post WW II boom years still flying. It was founded in 1948
by Benjamin Pepper to operate three ex Pan American Boeing 314As flying boats on an irregularly
scheduled basis between New York and San Juan, Puerto Rico. A scheme was later developed to
extend service from New York to Ireland. In the event this ambitious endeavor never got off the
ground (or rather off the water) and it appears that none of these services was ever actually flown.
In 1950 the line was purchased by Edward J. Daly who was to remain its driving force for many
years to come. Curtiss C-46s and DC-4s were purchased and the company acquired significant
military contracts. N59952 was one of nine DC-4s flown by World. Oddly, this aircraft was
converted from its C-54B-1-DC configuration to a DC-4 as N88723, but was re-registered
N59952 by Braniff when they bought it from the manufacturer in 1947. It went to World Air-
ways in June 1953 when this shot above, was taken, at Oakland. It went to Air Charter Ltd in
the UK in 1955 as G-ANYB and was eventually converted into the first of the Aviation Traders
ATL-98 Carvairs for Channel Air Bridge as '

Golden Gate Bridge'

. .Keith Evans took the shot
of it (below) as it was being readied for its first commercial service from Southend, where it was
re-manufactured, to Geneva in 1962. As G-ANYB it was broken up in 1970.