Westair Transport Curtiss C-46 N4894V (c/n 387)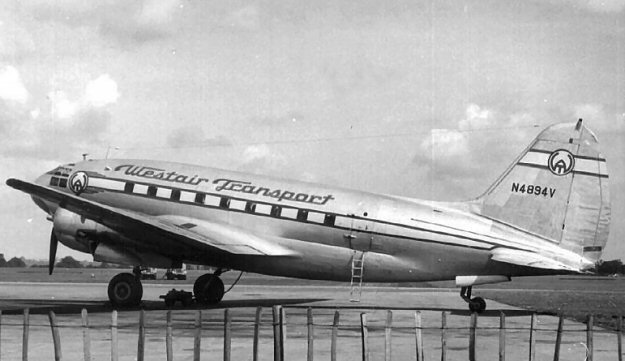 This shot was taken on the far side of London Airport in 1956. I was with the late and great
Peter R. Keating at the time. Westair Transport was formed in 1948 as Aviation Corporation
of Seattle, Inc. It ran passenger and cargo charters initially to Alaska and the Caribbean and
expanded into Europe by the mid 1950s. The company also flew a couple of DC-3s in
addition to a modest fleet of C-46s. The company ceased operations in 1964. N4894V
saw service flying supplies into China from Burma over "The Hump", during WW II and was
seconded to the Nationalist Chinese Air Force in 1945. It became part of the CNAC fleet
in 1947 as XT-120 and, when the Communists took over the mainland in 1949 it became
one of the clandestine CAT machines and was registered in the US as N8367C. It returned
stateside in 1953 and was re-registered N4894V. Westair acquired it in 1955. The C-46
went to Lineas Aereas Unidas SA in 1957 as XA-MER, and then to Venezuela as YV-C-LBR.
in 1962. Re-registered YV-C-TGD in 1968 it wound up with Latin Carga as YV-143C
and was wfu at Caracas in 1977.