Viking Air Lines Douglas DC-3 N90626 (c/n 4327)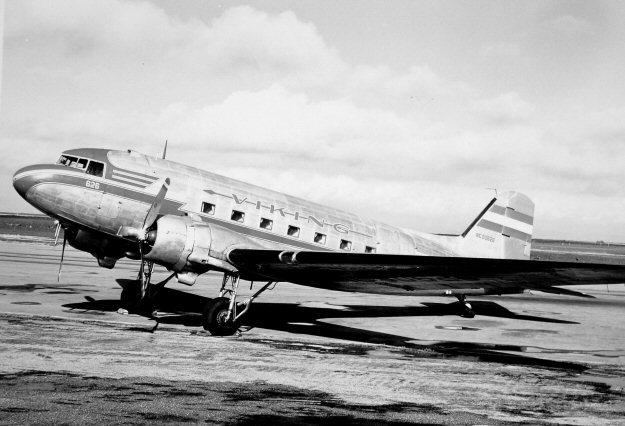 Rare shot from Bill Larkins of a Viking Airlines DC-3 at San Francisco in October 1946. It
is even carrying the fleet number of '626' in the cheat line on the nose. (Like they had such
a vast fleet that they couldn't keep track of them by registration number?). Viking was formed
as Aerovan Express Corporation in 1945 by Roscoe Hart and Jack Lewin. The name was
changed to Viking Air Lines in 1946. It flew low fare irregularly scheduled coast-to-coast
services, initially with DC-3s and later upgraded to DC-4s. In 1949 it had its registration
revoked for excessive frequency. In the mid-1950s it became one of the carriers under the
North American Aircoach System umbrella. Viking restarted in 1961 under its own name
with military cargo contracts, and was instrumental in providing logistical support during the
Korean War. A small number of C-46s were also used at this time. The airline folded in 1956.
NC90626 was an early former C-47-DL, ex 41-7828, originally civilianized in March 1946
for National Air Cargo. It was sold and spent a brief time with Pacific National Air Express.
That its tenure with these carriers was short is evidenced by the fact that, when Bill saw it at
SFO in the fall of that year it had already been acquired by Viking. It evidently stayed on the
U.S. register until May of 1954 when it was sold to Flugfelag Islands as TF-ISD. In 1957
it went to Braathens SAFE as LN-SUK . It later had other Norwegian owners and was
later re-registered LN-RTA. By 1971 it was in use at Oslo's Fornebu Airport as a fire fighting
training hulk and was finally completely destroyed in 1976.