Viking Air Lines Douglas DC-4 N90910 (c/n 35984)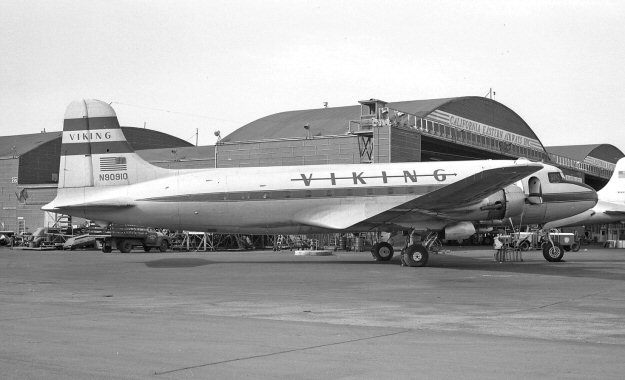 The above shot was taken at Oakland in 1954. At that time Viking had become part of the nonsked
North American Airlines Agency although this DC-4 may have been used for purely Viking cargo
duties .N90910, was an ex C-54G-5-DO that was leased from the USAF by American Overseas
Airlines in 1946 becoming their

'Flagship Shannon'.

As such it

was a

regular visitor into the nucleus
London Airport in 1946-47. AOA returned it in 1949 and it was then leased to Resort Airlines and
later to Flying Tiger Line At the time of the above photo it may have been sub leased from FTL.
Oddly, this aircraft (according to my notes) was returned to the USAF in 1954 as 45-0531 and was
used in static tests at Tucson, winding up in the Davis Monthan boneyard in 1967. .