Vacation Airways Boeing 307 Stratoliner N19910 (c/n 2003)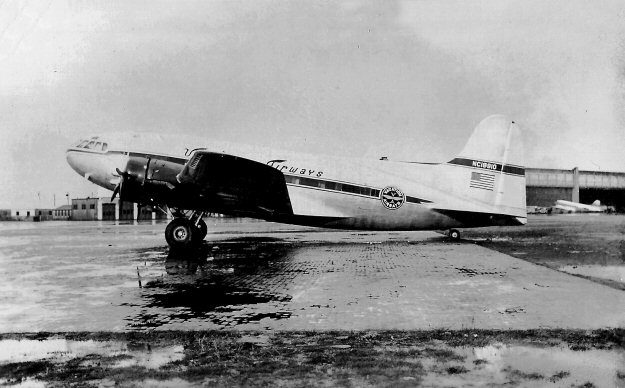 This rare shot is from the Brian Baker collection. It is a very uncontrasty print and I have tried
increase this to enable the white top to show. Immediately below is an enlargement of the logo
and tail number. The photo was taken at Teterboro, circa 1951. The Stratoliner had been leased
from Pan American where it was the former '

Clipper Comet

'. I have nothing on Vacation Airways
at all. There was a Vacation Airways based in S an Juan, P.R. in the 1970s, but clearly this is a
different outfit .This B.307 may, in fact, have been its only aircraft. It was only with Vacation a
short while and then went to Area in Ecuador as HC-SJD-004, later just HC-004. When returned
to the US (1955?) it became N75385 and went to Admiral Airways. It was later (1956?) put into
storage, although shortly afterward purchased from there by Wilbur Kelsey. On 10 May 1958 it
was taken out of storage and prepared for a ferry flight to determine fuel and oil consumption.
Auxiliary gasoline tanks were installed in the cabin, but had not been tested prior to the flight, despite
fuel leaks of an unknown origin being previously detected. During the flight there was an explosion
in the cabin and fire was seen coming from the accessory compartment. A forced landing was
carried out on a mesa with grass-covered boulders 15 miles from Madras, Oregon. The aircraft was
completely burned out, the crew of two escaping with their lives.