Universal Airlines Douglas DC-6B N90771 (c/n 44056)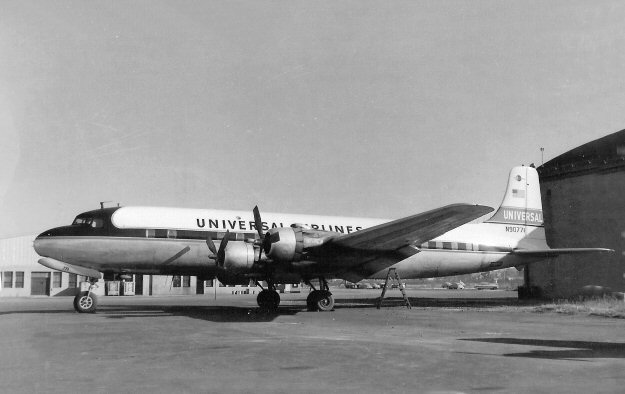 This aircraft presents something of an anomaly. None of the records I have ever list this machine
as having been registered to Universal Airlines. John Corpening's 'Forgotten Flights' indicates that
this, the first Universal Airlines, was a trading name for S.S.W. Inc. This may well have been insofar
as one of the principals for President was A.C. Shirmer, one of the founders of S.S.W. The shot
above was taken at Santa Monica (Clover Field as it was then named) in June 1961. I'm pretty
sure the dating is accurate since I took it*. An ex American DC-6B ('

Flagship Kentucky

', later
'

Flagship Louisville

'), my current records show it was being leased from Alaska Airlines at the
time by President Airlines, a Burbank based nonsked which undertook overseas charters. The
markings of the DC-6B seen above are, in fact, the same livery as that of President Airlines', with
merely the titling changed. Anyway, the aircraft later went to the CIA airlines Air America and
Southern Air Transport. Incidentally, this Universal is not to be confused with another airline of
the same name which started in 1966 and was a division of Universal Consolidated Industries.
*I did lose several of my photo notebooks over the years, so the dating may have been early 1961.
I would be pleased to hear from any DC-6 expert who might be able to expound on the history
of this aircraft.