United States Overseas Airlines Douglas DC-4 N90440 (c/n 10346)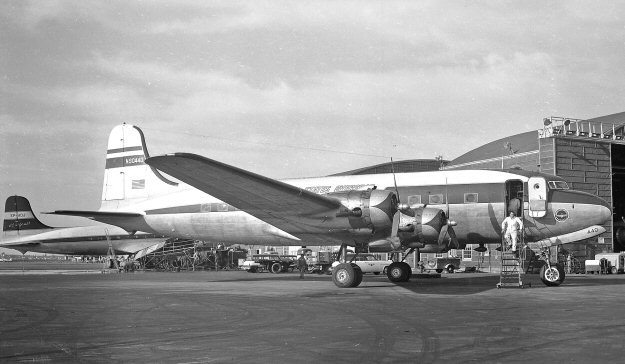 United States Overseas Airlines was formed at Cape May, New Jersey in 1946 as a passenger
charter outfit. Initially operating low fare irregular scheduled flights from coast to coast and to
Hawaii, it finally secured its International Certificate in January 1956 It grew into a fairly large
concern and in 1960 took over the operations of Transocean. US Overseas owned/leased
some 14 DC-4s over the years and also flew Lockheed L-1049 and Douglas DC-6 and DC-7
equipment. It ceased operations on 30 November 1964.
N90440 was the former American Airlines '

Flagship Houston'

. US Overseas acquired it in
August 1956 The above shot was taken at Oakland in August 1956. The DC-4 on the left is
EP-ADJ being overhauled by Transocean prior to being leased to Iran Air. It was the former
N9940F N90440 went to Air France (on contract the French Post Office - CEP) in June
1962 as F-BFCP. It crashed and was destroyed (fuel selector problem) on take off from
Paris-Orly on 28 June 1969. Detail of United States Overseas cabin top and badge below.