U.S. Airlines Curtiss C-46 N1914M (c/n 22470)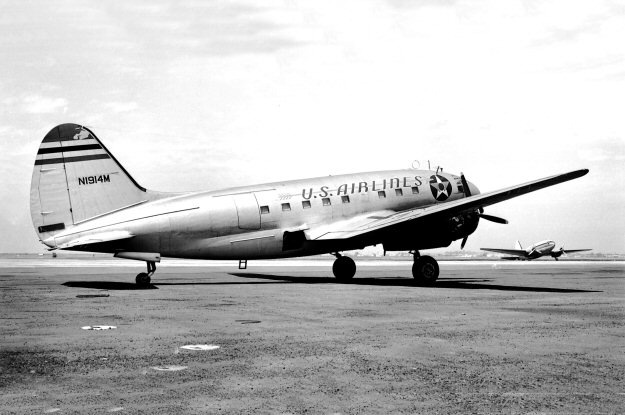 U.S. Airlines was headquartered in St. Petersburg, FL and was formed in 1946 by Harold R.
Playford. It had a sizable fleet of C-46, DC-3, L-18 Lodestar and L-049 Constellation
equipment employed on charter passenger and cargo services. It later acquired DOD cargo
and passenger contracts. The leased Connie was used on an irregularly scheduled New York-
Miami-San Juan, PR route. U.S. Airlines filed for bankruptcy in 1955 and as a result lost its
CAB certificate . N1914M was yet another square (or at least, blunted) wing-tipped
C-46F-1-CU civilianized in 1948, ex 44-78647. It actually went to U.S.Airlines in November
of that year. Bill Larkins took the above shot, and also the close up of the nose showing the
distinctive psedo-military looking star livery, at Oakland in July 1952. Hopefully the cut-rate
passengers did not get a chance to wander around to the starboard side and see the paint peeling
off the cowling of the P&W R-2800-75 engine! This C-46 later went to Capitol Airways before
being acquired by the University of Michigan in 1971 and re-registered N7366N. It was then
sold to the Environmental Research Institute of Michigan when that entity formally separated from
the University. Still later in the 1980s it wound up with the Mexican Air Force as TEC-6050.