Twentieth Century Airlines Douglas DC-4 N67566 (c/n 10344)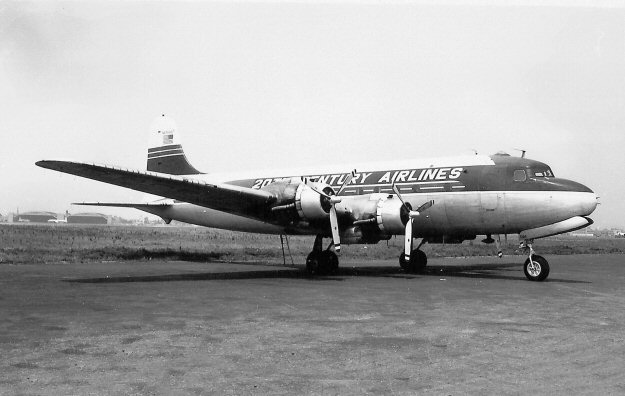 This rare shot is from the Jennifer Gradidge collection. Although a small print, the registration can
be discerned quite clearly on the original (enlargement below). Twentieth Century was founded by
Glen Shaver and the Rev. Christopher Bachman offering a three times a week low cost service
between Charlotte, NC and Chicago using DC-3s. It was purchased in 1950 by Stanley Weiss'
North American Aircoach System and became part of the NAA travel agency which also included
Viking Air Lines, Standard Air Lines, Trans-National Airlines, Trans-American Airlines and Hemi-
sphere Air Transport. By combining the six carriers he effected skirted the CAB ruling that non-
skeds could only operate twelve-per-month scheduled flights and was able to offer daily service
using, in essence, a different carrier each day. Of course the CAB soon caught on and these '99er"
Aircoach flights were ordered to cease and desist, but not before the mid 1960s by which time the
NAA agency was using the Twentieth Century Airline name as its top billing. When the consortium
finally folded Twentieth Century did, in fact, continue on as a military contract passenger operation
until 1962 when it, too, was denied a supplemental carrier certificate. N67566 was at various times
registered to not only Twentieth Century but also to North American Airlines itself and to Trans-
National Airlines. The bloke doing the registration transfers must have been kept busy on this air-
craft alone! For the record it wound up with Air Cameroun as TJ-ABM in 1965 and was eventually
withdrawn from use in 1969.