Transocean Air Lines Douglas DC-4 N9937F (c/n 35933)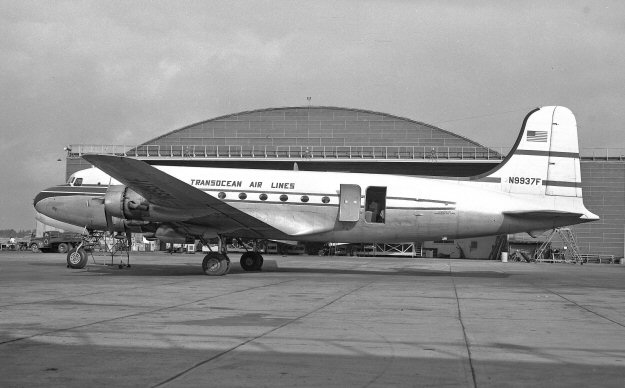 This late model C-54G-1-DO had been leased to Pan American World Airways as 'Clipper
Red Rover' in 1947 and had been converted to a civilian airliner by Douglas, it being the 81st
such conversion of C-54s to DC-4 status. Delivered to the USAAF in June 1945, it probably
went more of less straight to the civilian conversion shop. When Pan Am's lease expired it was
picked up by Transocean and, oddly, given an "F" suffix registration. The 'F' suffix in those days
was normally given to those American aircraft based at 'Foreign' locations. As far as I know
N9937F was based at Oakland, where this shot was taken, with the remnants of the Pan Am
livery still very much in evidence. It was returned to the USAF as 45-0480 in November 1954
where it was converted to a VC-54G. It was relegated to the Davis Monthan bone yard in
1972 but became N9937F again when acquired by Dross Metals Inc in 1975. This elegant old
lady was broken up in 1976.