Transocean Air Lines Curtiss C-46 N(X)68967 (c/n 22494)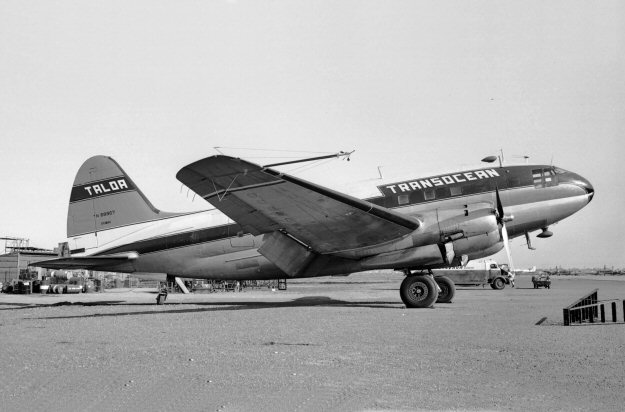 At the time this Bill Larkins shot was taken at Oakland in July 1954 this C-46 was registered under
the Experimental category. By this time all regos were purely 'N', but the word 'Experimental'
appears in minuscule print on the fin. It had been modified to use two Turbomeca Palas turbojet
engines under the fuselage, although they are not mounted in this shot, and the machine was at the
end of its lease and about to be returned to the USAF. . The elaborate protrusion on the star-
board wing is a yaw meter. Transocean were not a huge user of the C-46 by nonsked standards,
only operating some 16 of them over the years. N68967 was used in Taloa's Alaskan Division
and, as such, it was felt that the small jet engines might be of advantage in short field performance.
In the event the idea was not pursued. This C-46 later went to CPAL as CF-CZL, following
which it had several other Canadian owners until withdrawn from use in Montreal in 1970.