Transocean Air Lines Boeing 377 Stratocruiser N85Q (c/n 15946)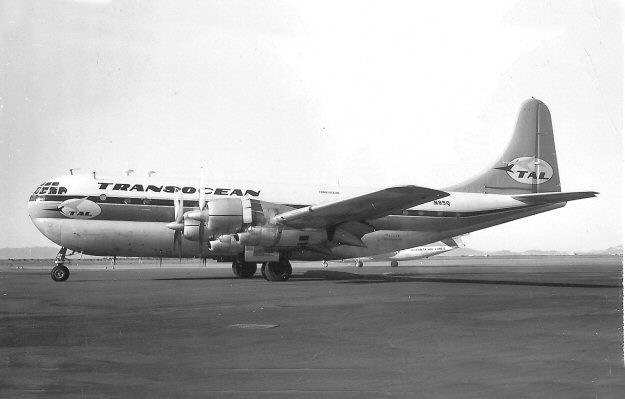 In 1958 Transocean acquired 14 ex-BOAC Stratocruisers. Only 8 were ever put into operation.
The rare shot above, from the J.M.G. Gradidge collection shows the first of these as N85Q before
it was re-registered N403Q. It was formerly BOAC's G-ALSD '

RMA Cassiopeia

' The Boeing
377 was an extremely expensive aircraft to run. The few carriers who had them hard a hard time
making a profit with their fleets of these double-bubble liners. In BOAC's case, of course, it was
the tax-payer who was putting up the tab, but for the American airlines (PAA and Northwest) they
were a drag on the bottom line . Just what made Transocean's Orvis Nelson think that he could
turn a profit with them is a matter of conjecture. In the event, the carrier, which had begun in 1946
and had, in fact, become a vast conglomerate, was forced to file for bankruptcy in 1960. It was
never able to obtain the certification, financial backing, or aircraft necessary to expand into the jet
age. The supplementals never did get the full blessing of the CAB and without this support found
it very difficult to secure financing. N403Q was later acquired by Aero Spacelines, but I don't
think it was ever turned into a Guppy.