Trans International Airlines Douglas DC-4 N30047 (c/n 18374)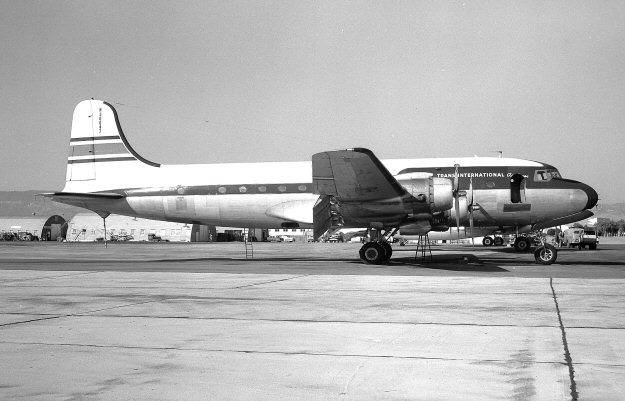 Here's a bit of a mystery. This shot was taken at Oakland, circa 1954. But, the only 'Trans
International Airlines' I know is the former Los Angeles Air Service (LAAS) which changed
its name to Trans International in 1960. N30047 was formerly United's 'Mainliner Lake
Tahoe' and was sold in 1954 to Lee Aero Leasing Corporation. Now it is possible that Lee
Aero painted it up in this livery as a forerunner to LAAS changing its name. It certainly was not
used long by that Kirk Kekorian owned enterprise though, since it was sold to Quebecair later
in 1954 becoming CF-HVL. The paint scheme above has been only slightly modified from the
old UAL livery. Some non-skeds literally had a different marking on every aircraft. Quebecair
on-sold it to Maritime Central in 1956 when it became CF-MCF and it was with that carrier
when it crashed into the ground on approach to Issoudin, Quebec on 11 August1957 killing the
crew of six and 73 passengers..