Trans Global Airlines Curtiss C-46 N9514C (c/n 26759)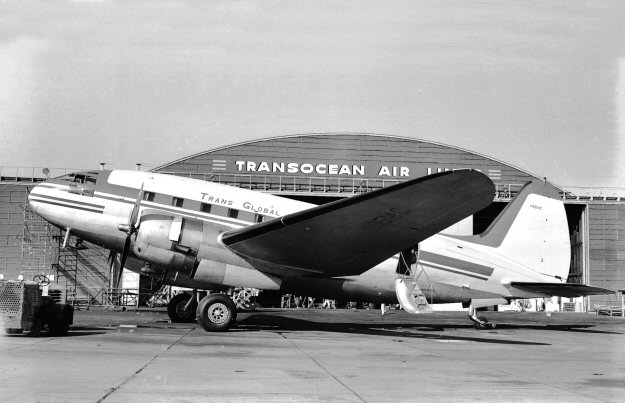 Trans Global was a small nonsked carrier founded at Long Beach, California by Donald Rich in
1957. It is seen outside Transocean's hangar at Oakland in December of that year in the above
shot by Larry Smalley (via Bill Larkins). The rego was painted on the fin in typical late 1950s
minuscule style and, even in the enlargement below still looks tiny. It probably could only be
read on the ground from a very close distance! In addition to several C-46s the line also had at
least one DC-3. Like many nonskeds these machines were often leased around between
other similar carriers during their careers*. This Trans Global Airlines did not last long and by
1961 it was gone. In 1976 another line with the same name was born. It flew Martin 404s and
at least one DC-8.
* N9514C is a bit of a mystery. None of the records I have for this machine show it ever being
registered to Trans Global. It was an ex-US Navy machine (Bua39541) which appears to have
been civilianized for Magic Carpet Transport. It is possible it was leased from this outfit when
Larry's photo was taken. Later, in 1963 it was sold to C-46 Parts Inc and then on-sold to
SAESA in Mexico as XB-PEX. It was wfu at Mexico City in 1972. Ostensibly it was to have
returned stateside as N11807 for Westernair of Albuquerque but this action appears not to have
transpired.