Trans Caribbean Airways Douglas DC-6 N90878 (c/n 42878)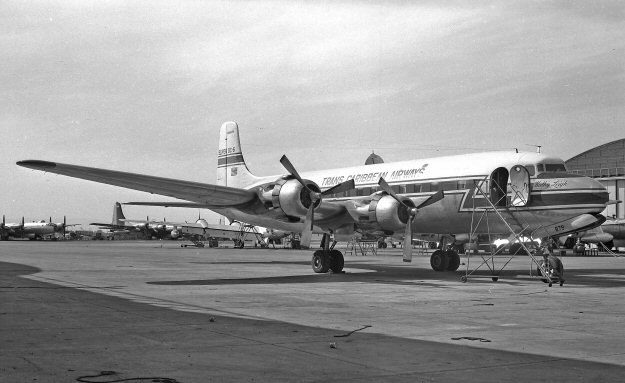 In 1955 Trans Caribbean acquired two DC-6s from Panagra. N90877 was the other one.
Several references indicate this aircraft was named '

Katy Leigh

', but a close up of the nose
of the original of this shot shows that the aircraft was, in fact, named '

Kathy

Leigh'. (See
below)

.

These two DC-6s were augmented later by a DC-6A and DC-6B from Canadian
Pacific. These -6s been purchased in a bid to offer competitive flights from Miami to Puerto
Rico since the CAB had decided to end Pan American's monopoly on this service. In the
event Eastern was chosen as the competitive line. Undaunted Trans Caribbean began bi-
weekly scheduled flights under their Supplemental authorization, undercutting both scheduled
airlines. (This was combated, eventually, by Pan Am and EAL both matching their fares).
When Trans Caribbean secured a certificate to provide scheduled service from New York
to San Juan, the DC-6 fleet was converted to all coach 102 seat layout. Described by the
CAB as an historic decision, this was the first time that a Irregular Supplemental carrier had
been reclassified as a Scheduled airline.
N90878 had a varied career after being sold by Trans Caribbean in 1957, finally winding
up with Air Vietnam as XV-NUK before being wfu and broken up in 1972.