Trans Caribbean Airways Douglas DC-4 N75416 (c/n 10411)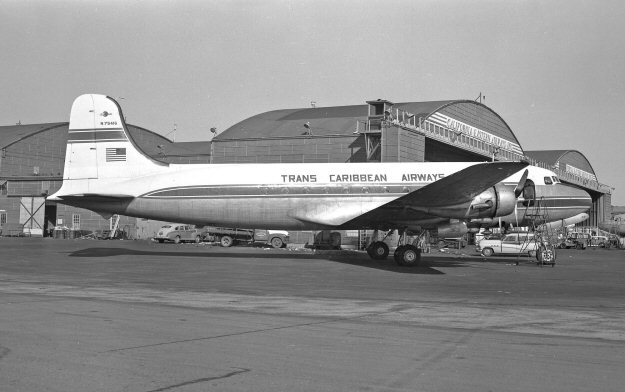 Oddly, this C-54A-15-DC conversion went straight to Trans Caribbean in 1946 rather than
to a scheduled airline. The carrier, which began in 1945 as Trans Caribbean Air Cargo must
have been well financed. Founded by Roy Chalk, it continued to grow and progressed to
passenger charters to San Juan, PR. In 1948 the name was changed to Trans Caribbean
Airways. In addition to DC-4s the airline also flew C-46s, C-47s and, in the late 1960s,
DC-6s. By 1957 it had limited (legal) scheduled rights. Boeing 727s were acquired in 1970
and in 1971 to line was purchased by American Airlines. The above shot of N75416 was
taken at Oakland in 1956. This DC-4 was sold in 1962 to the German cargo carrier
Continentale becoming D-AGUS. It returned to the US in 1963 as N4273A for the Boreas
Corporation and then went to California Airmotive who retired it in 1970.