The Californian Curtiss C-46 N5616V (c/n 22369)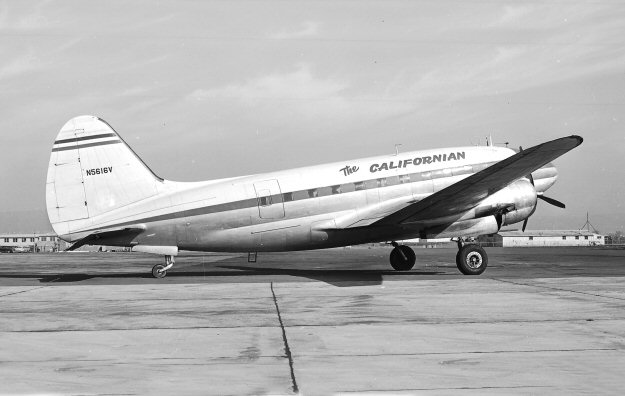 I know virtually nothing about this company, except that it flew low fare irregular scheduled passenger
flights from Burbank to Oakland in the early 1950s. . In fact, N5616V may have been their only air-
craft. I suspect it was probably based at the northern airport, where this shot, by Douglas D. Olson
was taken. Now, I have known Doug for well over fifty years and he has always been a stickler for
accuracy. Having said that, the negative is dated 9 January 1954, whereas my data on the C-46
c/n 22369 indicates that it was built as a C-46F-1-CU (44-78546) and delivered to the USAF on
7 July 1945. It was transferred to the Foreign Liquidation Commission in June 1948 and civilianized
for Trans Continental Airlines shortly afterward. My records indicate that it then went to Curry Air
Transport followed by a short period with Great Lakes Airlines, circa early 1948. It was bought by
'The Californian' in 1949. In 1950 it was purchased by Trans Air Hawaii and then by Skycoach
Express in 1952. At the time of Doug's photo my records indicate that N5616V went to Aerovias
Sud Americana. So, did it go briefly back to The Californian at around that time? *** As I say,
photographers of Olson's caliber were not often wrong, but perhaps the dating has become convoluted
over the last sixty years? From ASA N5616V went to Canada in March 1956 as CF-IGX for World
Wide Airways and then was brokered back in the states by Fred B. Ayer and Associates as N6600D.
Resold in Canada it became CF-MKV for Montreal Air Services in 1960. Then back stateside as
N323V for Vicair Inc. Atlantic Aircraft Corporation bought it in 1965 and sold it to Ex-Im Export
Corp a year later. It was withdrawn from service in 1971 and presumably broken up.

*** Remember the old country song ".....and as a Silver Dollar goes from hand to hand........." well,
in the 1950s one could have added "so a C-46 goes from non-sked to non-sked". Such was the
turn over of these old ex-military machines that, in many cases, even the log books did not reflect all
the changes of ownership!