Standard Airways Douglas DC-3 N33607 (c/n 4807)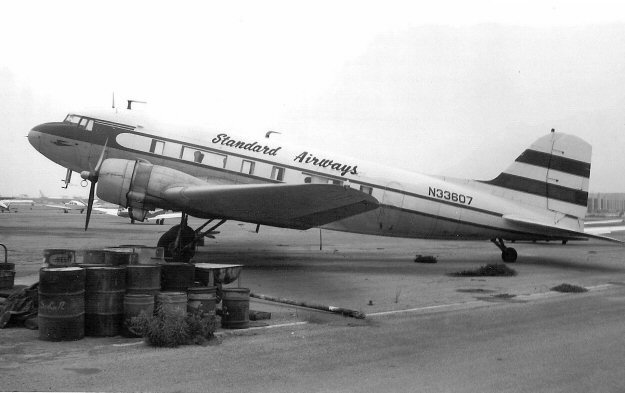 Standard Air Cargo was formed in San Diego in 1946 (see previous entry). In 1953 it
changed its name to Standard Airways when it began passenger charters and irregular
scheduled flights from San Diego and Long Beach. My shot, above, was taken in May
1963 among the ever present oil drums on the south side of LGB. In those days this
ramp always seemed to be drenched with oil, some of which, I swear, came out of the
ground from nearby Signal Hill. Whatever, one had to tread extremely carefully in the
area! N33607 was delivered new as a DC-3A-375 to Inter Island Airways in 1941
and was then re-registered to Hawaiian Airlines when the name change took place. At
some point in time Hawaiian had the 'Viewmaster' window fitted. When sold by the
island airline it had several owners (including Admiral Air Service and Avalon Air Trans-
port) before gravitating to Standard at the time I saw it in 1963. During all that time it
retained Hawaiian's livery. It later went to Catalonia Airlines as part of a merger with
Avalon. When done with gallivanting around So Cal with these various small operators
it was re-registered N8720 and then again as N4440M before being exported to Mexico
in December 1978.