Standard Air Lines Curtiss C-46 N79978 (c/n 2936)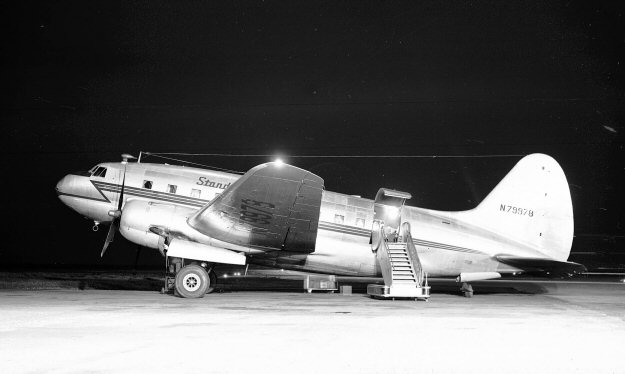 Another of Bill Larkins' outstanding night shots. This one was taken at Oakland on 6 May 1949
using his Kodak Super-XX 616 camera on f.8 with the shutter open for three minutes (no flash).
Standard Air Lines was founded in 1948 and had no relation to Standard Airways formed from
Standard Air Cargo in 1953. Standard Air Lines operated low fare irregular scheduled passenger
flights between Burbank, Long Beach and Oakland in California and New York (Newark) via
Kansas City and Chicago. DC-3s and C-46s were used. In 1950* it merged with Ross Hart
and Jack Lewin's Viking Air Lines to form North American Airlines.
N79978 was a former C-46E-1-CS (43-47410) acquired by Standard in April 1948. On 12 July
1949 the aircraft departed Albuquerque at 04:24 hrs for a flight to Burbank, CA. At 07:36 the
crew were cleared to land at Burbank; but nothing more was heard from the flight. It appeared
that the C-46 had crashed on approach, striking the ground at 1890 feet asl, some 430 feet below
the crest of Santa Susana Pass. 32 of the 44 passengers and 3 of a crew of 4 died in the accident.
* As a result of the crash Standard Airlines was ordered to cease non-scheduled operations due to
regulation violations and shortly afterward sold out to North American, as stated above.