Standard Air Cargo Douglas DC-3 NC17085 (c/n 6084)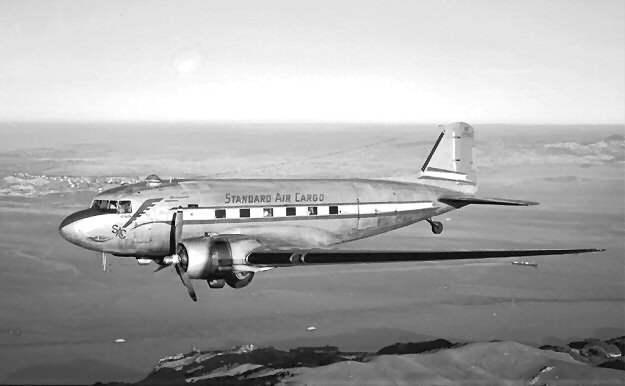 This oft-published photograph first appeared in "The Aeroplane Spotter" in 1946. It depicts
an ex C-47-DL (41-18678) flying with the port engine feathered. Civilianzed in 1946 after its
deployment with the 5th Air Force in Australia the DC-3 went to Standard Air Cargo which
had just been formed in San Diego. The aircraft was named 'Colysta'. Despite its name,
Standard Air Cargo also flew passenger charters. The company was renamed Standard Air-
ways in 1953. N17085 in the meantime went to the embryo Pacific Southwest Airlines in
1949. It wound up, oddly, damaged beyond repair in December 1960 at Mogadishu, in what
was then the Somali Republic.