Slick Airways Curtiss C-46 N4718N (c/n 22490)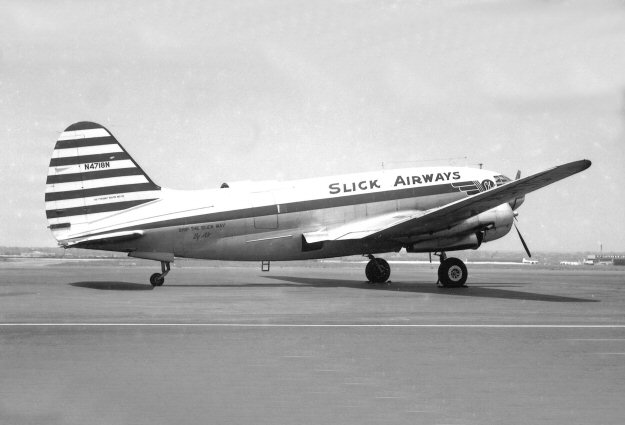 Slick Airways was founded by Earl J. Slick at San Antonio, TX in 1946, and later moved its
headquarters to Burbank, CA. . It operated, at one time or another, over 35 C-46s. One of
these is seen above at Oakland in 1952. As the company grew it acquired DC-4s, DC-6s
and Lockheed L-1049 Constellations. Just before its purchase by Airlift International in 1966
it was operating swing-tail Canadair CL-44s The airline began scheduled service as a cargo
operator with transcontinental flights beginning in 1949. During the Korean War it acquired
military contracts for troop transport. N4718N seen above was one of many C-46F-1-CUs
civilianized in 1947. It originally went to Aaxico Airlines who leased it out to various airlines
between 1948 and 1965. Slick operated it from 1952 to 1954. Other leasees were
Northeast Airlines, Zantop Air Transport and Argonaut Airways. In 1966 it went to Boliivian
Airways (TABSA) as CP-795. Then to Servicios Aereos Bolivianos at CP-990 with whom
it was written off when it flew into a mountain near Unduavi (16 km from La Paz) on 6 Jan
1974.