Seven Seas Airlines Douglas DC-4 N30048 (c/n 18384)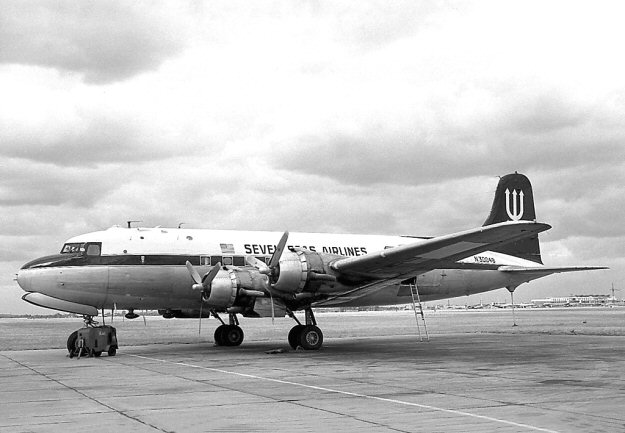 Seven Seas Airlines was incorporated in New York in 1957. It flew cargo and passenger
charter operations although based most of its small fleet in Luxembourg. From there it flew
ship's crew positioning charters to various ports in Europe and the Far East. It also had
contracts for emigrant flights to Australia. The above shot was taken at London Heathrow
on 26 January 1961 by the late Ian MacFarlane. Note squared window outlines on this ex
C-54B-15-DO to 'pretend' it was a DC-6! I just cannot image flying from Europe to Oz
in a DC-4! It appears that Seven Seas only operated for a few years and by the end
of 1961 it was gone. The above DC-4 was Douglas' 18th civil conversion from C-54 to
DC-4 status after the war and went to United Air Lines as their '

Mainliner Olympic

'. It
then seemed to flip-flop on leases between Asiatic Animal Imports and Seven Seas Airlines.
(No, I don't even want to go there, vis-a-vis the emigrant flights). When Seven Seas folded
it went to Belgian International Air Services as OO-DEP and and crashed on take-off from
Leopoldville, (now Kinshasa) Democratic Republic of the Congo on 29 November 1964.
(It actually struck a fuel drum which had been left in the middle of the runway).