S.S.W. Inc Curtiss C-46 N54339 (c/n 22462)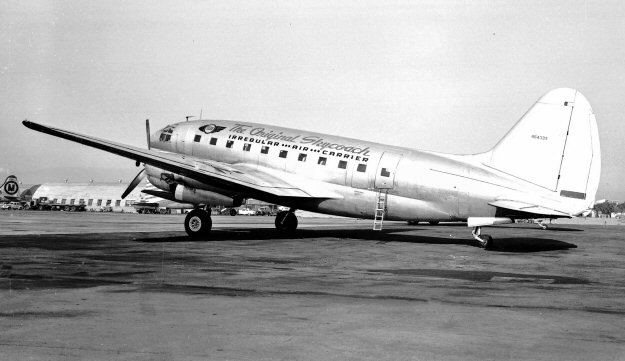 I have very little on this company. Bill Larkins, who took the above shot at Oakland in May 1952
indicates that it was originally formed at Buchanan Field, Concord in the early 1950s with a single
DC-3 (an ex USN R4D-1). The company later acquired two C-46s and a DC-4. It was one of
the first nonskeds and also flew under the name 'Supair'. The 'S.S.W.' came from the names of
the founders. An American Aviation magazine for November 1946: lists an address in Bethesda,
MD as the headquarters and A. C. Schirmer as the President. They billed themselves as "The
Original Skycoach' as seen in the titling enlarged below. In July 1951 S.S.W. Inc brought suit
against the Air Transport Association of America along with half a dozen scheduled airlines
(TWA, American, United, etc.) in the Supreme Court under the antitrust laws. The fledgling
nonsked alleged that the ATA and the airlines 'conspired to monopolize air-borne commerce
within the United States by suppressing competition therein and controlling the channels through
which prices, terms and conditions etc. are determined.........'. Further, they claimed, the CAB-
sanctioned airlines tended to 'solicit, persuade, induce, and coerce ticket agencies and travel
bureaus to act as agents only for scheduled airlines to the detriment of irregular air carriers and
'nonskeds' and from making sales and distribution of tickets, charters and contracts to the said
irregulars'. They had a point actually but, of course, this cut no ice with the court and the case
was dismissed. It was, of course, a well known fact that the nonskeds' operating procedures
and maintenance were, by and large, not really up to snuff. S.S.W. folded around 1953 and
N54339 was sold to Wien Alaska Airlines. Much later, in 1976, it wound up with Aerovias Las
Minas in Panama as CP-1268.