Resort Airlines Douglas DC-4 N65142 (c/n 10338)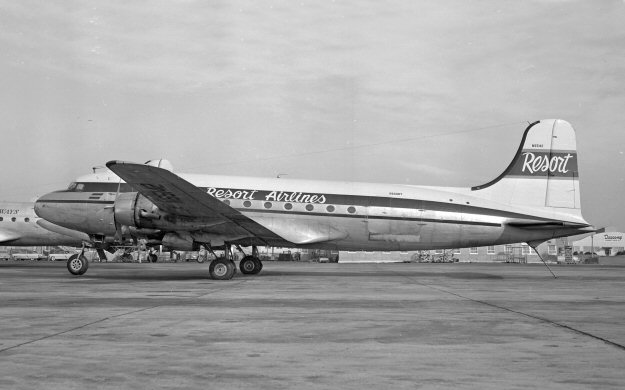 Because of the propensity, in the mid 1950s of painting the registrations on aircraft so small that
they could only be read from a distance of about 50 ft (tops), I will again append an enlargement
of this DC-4's identity below so that you may see that it is, in fact, an ex Braniff machine. Built as
C-54A-10-DC 44-72233 in 1944, it was civilianized for Braniff in at the end of 1945. Resort
purchased it in November of 1954 and the above shot was taken at Oakland a year later. Bill
Larkins took the photo at the foot of the page at the same venue in March 1954 of another one.
This aircraft, N33681 was a former National Airlines purpose-built DC-4-1009. It went to
Qantas from Resort in in 1955 as VH-EBP and was used as a freighter. . Resort used some
of their passenger configured DC-4s on their 'Caribbean Flying Houseparty' flights in the 1953-
1955 era. These were basically Inclusive Tour Charters flown from east coast cities via Miami
to various Caribbean destinations (Havana, Montego Bay, San Juan etc), under a special cert-
ificate originally authorized by President Truman.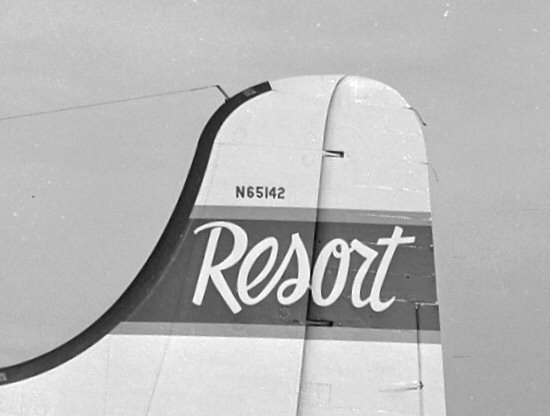 Douglas DC-4-1009 N33681 (c/n 42920)