North American Airlines Douglas DC-4 N63396 (c/n 10486)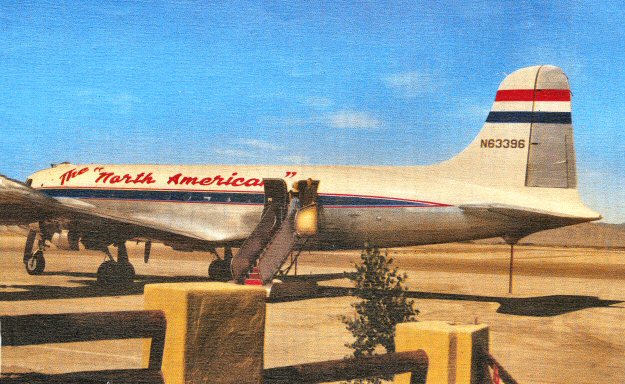 These two images came from post cards acquired from North American in 1953 (when I was living
in Tasmania). For the early history of the founding of North American, see the previous entry on
the DC-3. By 1951 Weiss had begun to replace the DC-3s and C-46s on the trans-continental
services with DC-4s. The scheduled routes linked Oakland with Burbank, Kansas City, Chicago
and New York, with other services from the latter base to Washington and Miami. Naturally, the
scheduled carriers, particularly National Airlines, objected vehemently, calling North American a
'professional violator of CAB regulations'. And, in fact, in 1956 the Supreme Court agreed with
them and in that year North American were virtually out of the scheduled business. Charter business
continued, however under the Twentieth Century Airlines moniker. In fact, N63396 was actually
registered to Twentieth Century Airlines when the above photo was taken, obviously at Burbank.
The montage below is interesting. Reckless though the non-skeds may have been, such close
'passing in the air' would have been unthinkable! . N63396, an ex C-54B-1-DC incidentally went
to Reeve Aleutian Airways and crashed whilst on approach to Adak, Alaska on 24 September 1959.