North American Airlines Douglas DC-4 N37477 (c/n 18333)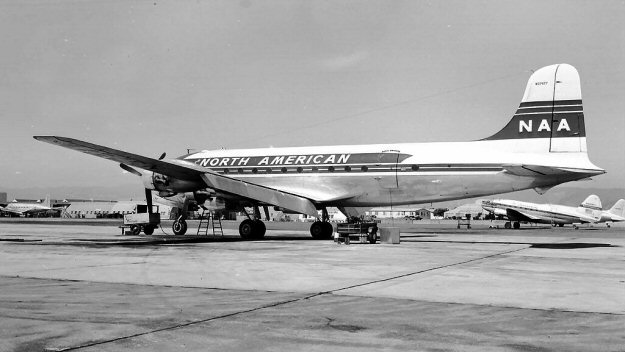 This North American Airlines, of course, has no relation to the company of the same name
founded in 1989. N37477 was an ex Delta Air Lines DC-4, acquired by Stanley Weiss'
North American in 1954. This one was actually registered to North American when Bill
Larkins took the above shot at Oakland in July 1953 (rather than to one of the other six
airlines in the syndicate), although was transferred to Trans-American Airlines and Twentieth
Century later on. It is wearing the livery adopted in the mid 1950s, rather than the earlier
'Aircoach": or "The North American" schemes favored in the late 1940 and early 50s. When
NAA ceased scheduled operations it went to Independent Air Transport (one of the U.K.'s
'non-skeds') in 1958 as G-APNH. It wound up as an ATL-98 Carvair for British United
Air Ferries a couple of years later. It was written off at Paris' Le Touquet Airport on 18
March 1971 when the nose wheel collapsed touching down in a severe cross wind.