New England Air Express Curtiss C-46 N1309V (c/n 22599)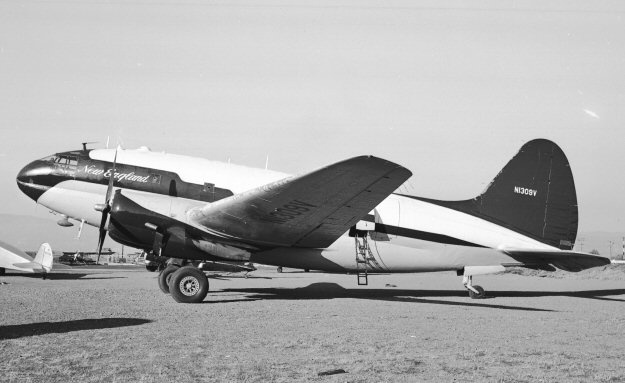 Here are both B&W and color renditions of this C-46 taken by Bill Larkins at Oakland in October
1949. The owner of the Cessna T-50 (or UC-78) on the left had not gotten around to changing
the NC67708 to N. New England Air Express was incorporated at Teterboro, NJ, although flew
mainly on cargo charters to and from and within Alaska. They had a couple of DC-3s and C-46s.
N1309V was a former C-46F-1-CU (serial 44-78776) possibly originally civilianized as N1211V.
New England leased it from 1949 to 1954 when it was acquired by Flying Tiger Line. It then went
to Capitol Airways and was written off by them when it crashed shortly after take off from Kingston,
Jamaica following an engine failure on 13 September 1967.