Modern Air Transport Curtiss C-46 N3935C (c/n 27063)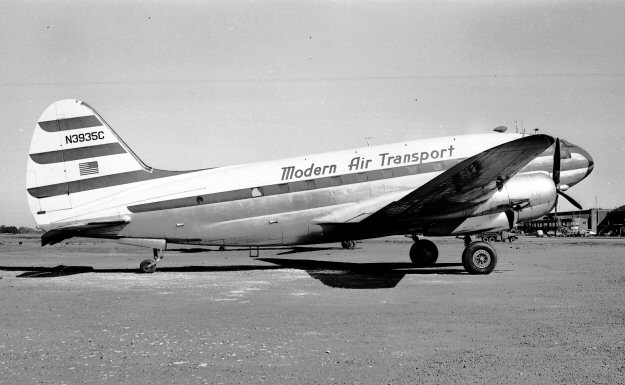 Well, miracle of miracles. Here's a 1950s non-sked with a registration one can actually read, as
opposed to the minuscule display normally offered. Bill Larkins' shot (above) was taken at Oak-
land, CA in April 1952. Modern Air Transport was a medium sized irregular carrier which oper-
ated from 1946 until 1975. It had a mixed fleet consisting of some five C-46s (most of which
were converted to Super 46C status), three DC-4s, four Constellations, six Martin 2-0-2s, three
DC-7s and, at the end of its career, no fewer than nine Convair 990s. The company was originally
incorporated at Trenton, NJ but moved to Miami in the 1960s. In the 1960s it gained significant
military contracts and the corporate name was changed to Modern Air. Between 1968 and 1974
it developed European Holiday Package flights based out of Berlin's Tegel Airport. In 1974 a
dispute between the airline and its German trading partner over fuel surcharges caused the company
to pull out of the European market with the result that it folded in 1975.