Miami Air Lines Curtiss C-46 N10421 (c/n 231)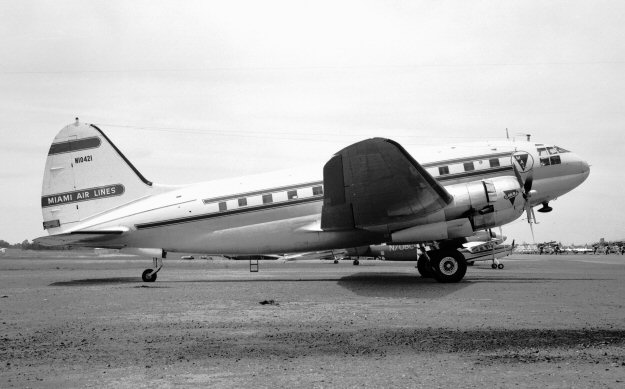 Here's a nice shot by Larry Smalley (close up of tail below) taken at Oakland in June 1959.
Now, the titling on this aircraft is interesting, insofar as my records on this carrier report it
as either (i) Miami Airline or later (ii) Miami Airline

s.

Never a gap between the Air and
Lines.

The company was formed in 1946 and was owned by R.W. Duff. It appears to
have had two bases of operation - Miami and Greensboro, NC. Since it went out of
business in 1961 the timing of this shot indicates that it was, in fact, the same charter outfit.
This company had a modest fleet of a couple of C-46s, several DC-3s, at least one DC-4
and one or more Lockheed L-749 Constellations. Passenger and cargo charter operations
were flown, including trans-Atlantic flights with the Connies. One L-749 definitely had titling
which read '

Miami Airlines

'. .I suspect the sign writer got it wrong on this C-46. This air-
craft, a former C-46A-55-DK saw service in the CBI theater during the latter stages of
WW II. It appears to have been converted, at some point in time (probably after this shot
was taken) to C-46R status with more powerful 2,130 hp R-2800s installed. It wound up,
incidentally, as 9T-PLA with the Congolese Government in 1962.