Meteor Air Transport Douglas DC-3 N53596 (c/n 20433)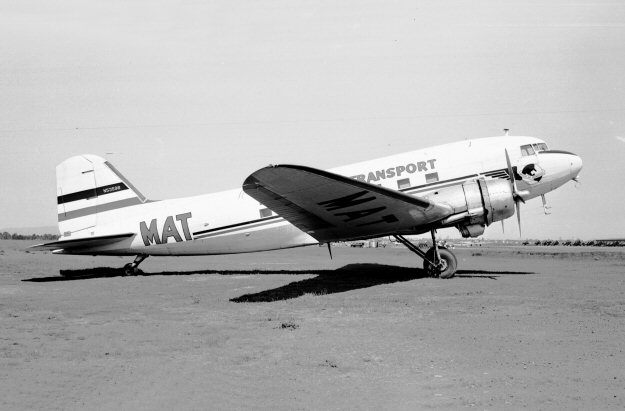 Meteor began its services in 1946 between New York and Detroit using mainly DC-3s. This
service was later expanded to other mid-west cities, including St. Louis. The carrier appeared
to operate about seven DC-3s at one time or another. Those that remained were phased out
around 1956 in favor of the C-46 and DC-4. N53596 was seen by Bill Larkins (above) at
Oakland in April 1952. Tail detail with registration below. It was a former C-47A-90-DL
(43-15967) and crashed at Lambert Field, St. Louis on 24 May 1953 after the starboard engine
was starved of fuel during the turn onto finals. Control was lost during the left hand turn and the
port wing struck the ground. One of the seven occupants, a Mr. Swart, survived the asccident.
Despite this, the aircraft appears to have risen, phoenix-like, since a DC-3 with c/n 20433 and
with the registration N77B was at Tampa, FL in derelict condition as late as 1979 in Florida Air-
ways markings, but possibly registered to 'Wings of Yesterday' at that time. Mistaken identity of
these two aircraft or was it really repaired following that St. Louis crash?.