Meteor Air Transport Curtiss C-46 N1535V (c/n 22376)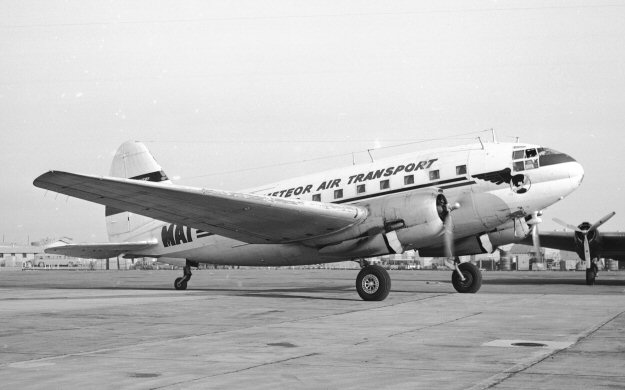 Meteor Air Transport was formed at Teterboro, NJ in 1946 by Oscar L. Morrow and Richard
M. Ludlow. It initially had a fleet of some six or seven DC-3s, four C-46s and three DC-4s.
It began service with low fare irregular schedules between New York and Detroit. Later, cargo
and passenger charters were operated. Bill Larkins' photo above of this C-46 example with the
starboard engine running was taken at Oakland in December 1952. An evocative shot, it does
reveal the registration (just) on the rudder as seen in the enlarge ment below. Like many non-
skeds of its ilk, Meteor had its share of accidents and went out of business in 1958. N1535V,
a C-46F-1-CU (44-78553) was initially leased from the USAF in 1951 although purchased out-
right by Meteor in 1954. It had several other owners from 1960 until it was withdrawn from
service in 1977.