Los Angeles Air Service Douglas DC-4 N95410 (c/n 10387)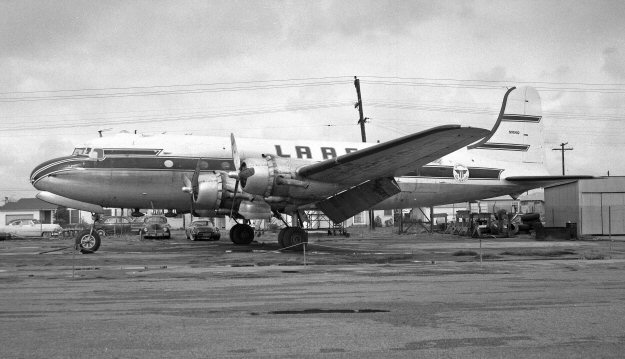 From 1956 until 1966 I lived within a stone's throw of Hawthorne Municipal Airport in the 119
block of Dehn Avenue which is now under the eastbound lanes of the Century Freeway. In
the mid to late 1950s there were two non-skeds which did maintenance at the field. One was
Stewart Air Service and the other Los Angeles Air Service (LAAS). This latter outfit was
founded by entrepreneur Kirk Kekorian in 1949. It was basically a charter line but also ran
junkets to Las Vegas, where Kekorian would later become an important figure. In 1960 the
name of the airline was changed to Trans International Airlines and Kekorian sold it in 1968 to
Transamerica Corporation. N95410 (enlargement of rego and logo below) was a former
C-54A-15-DC with USAAF serial 42-72283. It was civilianized in 1946, first as NC54048
and then as N95410 for Pennsylvania Central Airlines. When Capital took over that line it
became 'Capitaliner Mobile'. LAAS bought it in 1955 and my shot was taken at Hawthorne
in October 1956 just before it was sold to Meteor Air Transport. After passing to several
other non-skeds it wound up in Panama as HP-382 in 1963 and ditched into the sea off South
Caicos Island on 10 July of that year following engine failure.