Lone Star Air Cargo Douglas DC-3 N50037 (c/n 4307)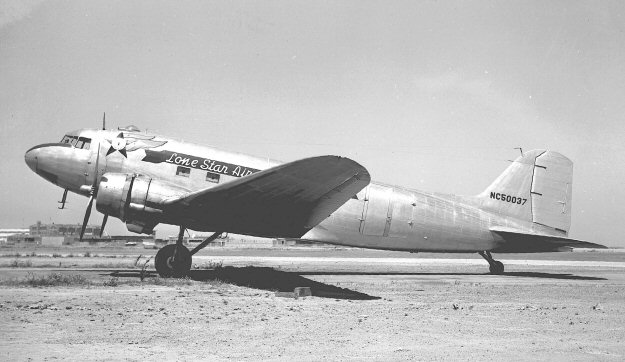 Incorporated as Lone Star Cargo Lines, this company traded as Lone Star Air Cargo. It was
operational from 1945 to around 1947. It appeared to fly some seven or so DC-3s out of a
Dallas (Love Field?) base. The above photo was taken by Bill Larkins, probably at Oakland.
N50037 was an early C-47-DL built for the USAAF as 41-7808. After a brief stint with
Lone Star at the end of the war, it was sold to R.S. Fecutros in Brazil as PP-DQA. This
individual may have been an aircraft broker, since it went then to Nacional and was re-regis-
tered PP-ANG. It passed to REAL after the takeover and was eventually sold to Avianca in
Columbia as HK-1315. Since then it has had many owners and incredibly, this old bird, built
in 1942, is still flying in Columbia, (for Sadelca) and, what is even more amazing, still as HK-1315!