Las Vegas Hacienda Inc Douglas DC-3 N67674 (c/n ? "33571")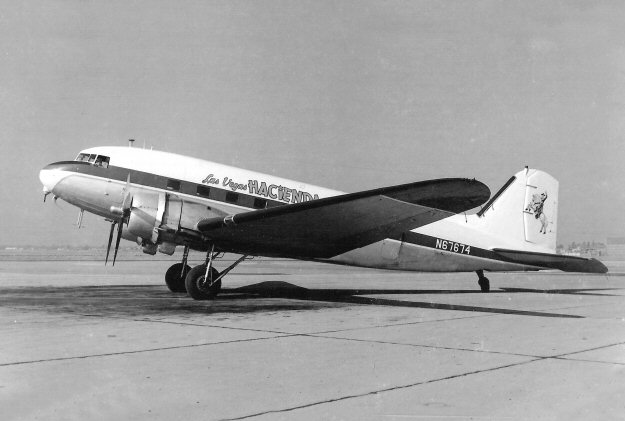 In the mid 1950s several Las Vegas Hotels ran Casino Shuttle flights, mainly from the L.A. Basin
(but also from as far away as New York). Notable among these were the Dunes and Thunder-
bird Hotels. In 1957, the owner of the Hacienda Hotel, 'Doc' Bayley decided to compete with
these rivals and, in fact, in the end, had the largest fleet of aircraft of any of these operations with
which to fly patrons from Los Angeles to his hotel. Although they initially commenced flights from
Burbank and Long Beach they even later audaciously left from LAX. It was a pretty good deal,
and I flew them on a couple of occasions (even though I worked for Western Air Lines at the time!).
For $27.50, one got a deluxe room, a bottle of champagne*, a free tote bag, $5.00 in chips plus
air fare thrown in. So successful were these flights that DC-4s and Lockheed L-049 Connies
were added to the fleet. The CAB put a stop to it in July of 1962 and from then on the hotel
continued with flights on a purely charter basis only, and tended to limit them to 'high rollers'. By
the 1960s they had scaled back the aviation business and operated limited capacity D.H. Herons.
There appears to be some discrepancy regarding the c/n of this C-47B. Some references show c/n
33571 as being scrapped in the UK after WW II. I believe Jennifer Gradidge attests that N67674
really was 33571, however. It was sold to Continental Air Lines in 1966 and then passed to the
CIA's Continental Air Services (CASI) for covert work during the Viet Name war. It was then sold
to Singapore-based Tri-9 Corporation but was in pretty bad shape and was scrapped.

* In the late 1950s the Hacienda Hotel was the largest single buyer of California champagne.