Las Vegas Hacienda Inc Douglas DC-4 N88890 (c/n 10481)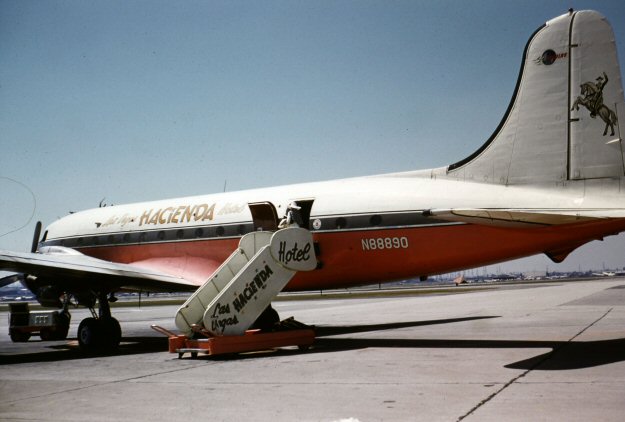 In addition to its DC-3s the Las Vegas Hacienda Hotel acquired this DC-4 in January 1963. It
was originally civilianized as Pan Am's '

Clipper Flying Arrow

', then to Eastern, Slick and American
International.. This color shot, from Nancy Prentice (her father was Maintenance Superintendent
at the carrier's Long Beach base), is the only one I have been able to glean of this aircraft. The air-
craft was loaded with a piano bar in the rear for the benefit of the high rollers. Later on it went to
Carib West Airways as 8P-CWA, then back to the U.S. register when it was wfu in 1977 and
stored in the Arizona desert. For all I know, it may still be there.
Incidentally, Hacienda also had at least one Lockheed Constellation.