Los Angeles Air Service Douglas DC-4 N65145 (c/n 10360)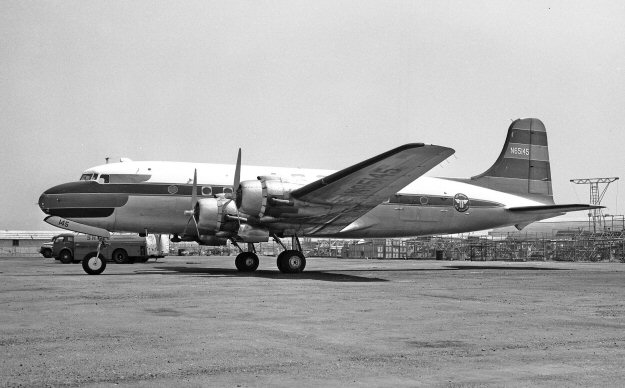 This LAAS DC-4 had yet to be painted into their livery when this shot, at Oakland, was taken
in 1954. It has just been purchased from Braniff and is still in the maerkings of that airline. The
company did put their logo on the rear fuselage, though (see enlargement below). In fact, it may
never have received the standard LAAS scheme since, like so many airliners of its ilk it was
bought and sold on a regular basis and was only with LAAS for a year, going to Riddle in May
1955. From there it wound up in Canada as CF-ILI for Wheeler Airlines and was written off
when it crashed near St. Cleophas, Quebec on 4 November 1959. An engine fire resulted in
the breaking off of the port wing. The operation was on a cargo flight and all five crew perished.