Los Angeles Air Service Curtiss C-46 N9403H (c/n 22495)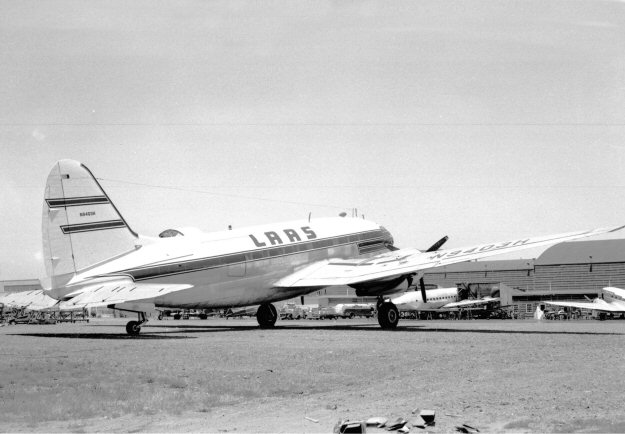 Here's another LAAS C-46. Detail of minuscule rego below. This shot was by Larry Smalley
(probably at Oakland) in July 1956. This one does not seem to have the logo on the rear fuse-
lage, although maybe that was only painted on the port side for the benefit of passengers. Form-
erly a C-46F-1-CU (44-78672) it went first to New England Air Express in 1948 before LAAS
acquired it in 1956. It was sold to Tigres Voladores SA in Mexico as XA-MIT in September
of 1958 although then repossessed by LAAS a year later when presumably the buyer defaulted
on payments. They were lucky to get it back. I bet they wouldn't have... in this day and age.
It then went to Capitol Airways (who had a huge fleet of them) and then on to Fairbanks Air
Service. It wound up in Canada in 1987 flying for Air Manitoba as C-GIXZ. It was then either
donated or leased to Relief Air Transport working with the UN in Africa and was written off at
Lokichogio Airport in northwestern Kenya.