Johnson Flying Service Curtiss C-46 N92854 (c/n 250)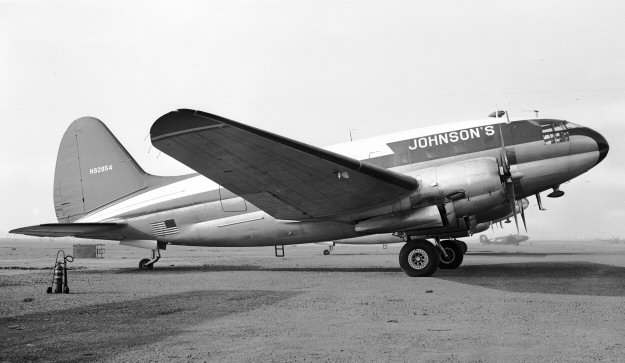 Robert Johnson founded Johnson Flying Service in Missoula, Montana, as far back as 1926,
originally as a flying school. It was, in fact, an important entity in training pilots during WW II.
Following the conflict the company began specializing in fire control services, initially dropping
'smokejumpers' from C-47s. Later, the company evolved into one of the largest fire retardant
dropping outfits in the world. In the early 1950s the company also entered the passenger and
cargo charter field. Their fleet also included Ford Tri-Motors, DC-3s, a DC-2 and, in the
1970s, Lockheed L-188 Electras. In the later 1950s the corporate name was changed to
Johnson Air, and then to Johnson International Airways before being purchased in 1975 by
Evergreen Helicopters, Inc. This company, in turn, later became Evergreen International Air-
lines. The above C-46 was probably operated on cargo charters although may also have
been used for parachute dropping of firefighters. Bill Larkin's photo above was taken at
Oakland on 28 November 1953. It was probably leased at the time, since the owner of
record was Charles E. Evans. Larry Smalley saw at at the same locale two years later in
April 1955 (below). My records indicate that N92854 is the ex C-46A-55-CK 43-47179.
But here's the rub. Douglas D. Olson, who was with Bill at the time, got inside this machine
and indicates that the c/n plate determined it to be a Curtiss C-46D-10-CU with USAAF
serial 44-77824. That aircraft had the c/n 33220. It is possible that there were two different
machines registered N92854, although the liveries on these two photos seem to indicate they
were both the same C-46, plus a slightly later FAA reguster lists N92854 as being c/n 250.