Hawthorne Nevada Airlines Lockheed L-049 Constellation N9412H (c/n 2072)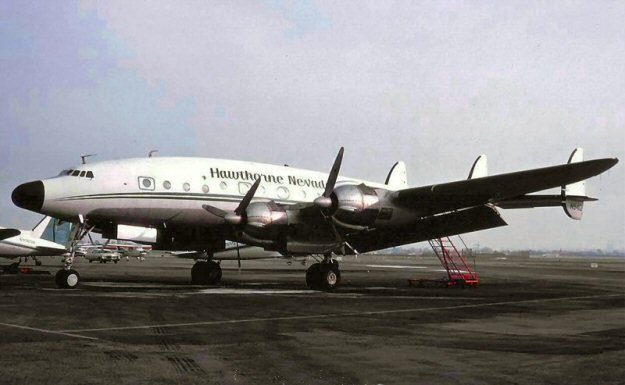 By the time Hawthorne Nevada Airlines acquired this Connie in June of 1968 it had had a dozen
or so prior owners. It began life as Air France's F-BAZA and then went to TWA (via Howard
Hughes' Hughes Tool Corporation) as "

Star of the Azores

". Thence to Las Vegas Hacienda Inc,
World Wide Airlines, Edde Airlines etc. etc. Somewhere along the way it had been upgraded
with a radar nose. The photo above, from the Chris Mak collection, was taken at Long Beach
in 1968. By that time I had moved out to Diamond Bar and tended not to frequent LGB too
much. Hawthorne Nevada by then were providing gambling junkets to Lake Tahoe. Nine
months or so later, in March 1969, the airline changed its name to Air Nevada, although by the
end of 1969 it was out of business.