Hawthorne Nevada Airlines Douglas DC-3 N15570 (c/n 6320)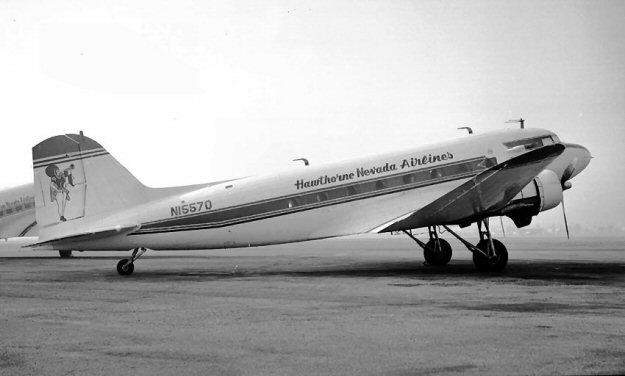 Hawthorne Nevada Airlines was formed in 1963. It was incorporated as Mineral County Airlines
but the small fleet of DC-3s were never, to my knowledge, titled as such. It had a CAB exemption
certificate to provide service between Burbank and Long Beach and the small desert community of
Hawthorne, Nevada. Service was later expanded to Lake Tahoe and Reno with the acquisition,
in 1968 of a single Lockheed L-049 Constellation. The photo above is by Bill Larkins whilst my
shot (below) was taken at the airline's maintenance base of Long Beach in 1964. A variation of the
airline titling was with 'Hawthorne Lodge Casino Nevada Airlines" over the cabin windows as seen in
the photo at the foot of the page, also taken at Long Beach. In 1969 the corporate name of the
airline was changed to Air Nevada, although this was short-lived since the company went out of
business that same year. Both the DC-3 illustrated here were lost, viz:


N15570

, an ex C-39J came to an untimely end (with the loss of 32 passengers and the crew of 3)
when it left Hawthorne (HTH) at 03:50 PST on 18 February 1969 on a VFR flight to Burbank
(BUR) and Long Beach (LGB) and crashed into the face of a sheer cliff on the east slope of the
Mount Whitney at an elevation of 11,770 feet msl. Cause of the crash was given as "deviation
taken by the crew from the prescribed route of flight, as authorized in the company's FAA-approved
operations specifications, resulting in the aircraft being operated under IFR weather conditions, in
high mountainous terrain, in an area where there was a lack of radio navigation aids."


N61350

, an ex C-47-DL which had seen service with Continental Airlines, Mid-Continent Airlines,
Braniff Airways and the Long Beach-based FBO Air Oasis, crashed at Mud Lake airfield near
Tonopah, NV on 19 August 1964 when both engines failed. Poor maintenance was cited as the
main cause.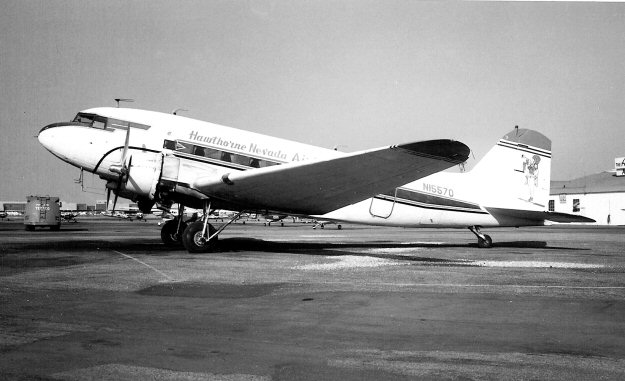 Douglas Academy Airlines) before being withdrawn from use at N61350 (c/n 4535)