Golden State Airlines Douglas DC-3 N33644 (c/n 4123)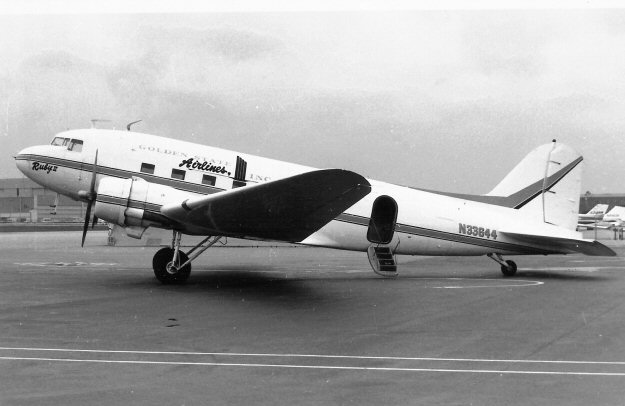 This Golden State operated passenger and cargo charters in the 1971-1979 era. Base of operations
unknown, but often flew into Long Beach, as evidenced by Frank C. Duarte Jr.'s shot below, taken
at that venue in October 1978. N33644 has had a long and illustrious history. A DC-3-197, it was
boringly ordered by United Airlines. It was diverted briefly to the USAAF as a C-52C-DO (serial
41-7701) but released almost immediately to Western Air Lines (who had an inter-line arrangement
with United in those days) in 1942. When sold off by Western in 1958 it was to have gone to Sheikh
Al Sabah in Kuwait as G-APKO. Probably the old bird didn't measure up to his Royal Highness'
standards and the deal did not go through. It was sold instead to Catalina Pacific Airlines. They
held it for a year or so and then it went to Standard Airways. It then had several private owners
and is still current, having been restored in pseudo 1930s Western Air Express livery. I say 'pseudo'
since, by the time NC33644 was delivered the airline was, to my knowledge, known only as Western
Air Lines and probably never did carry the 'Air Express' titling.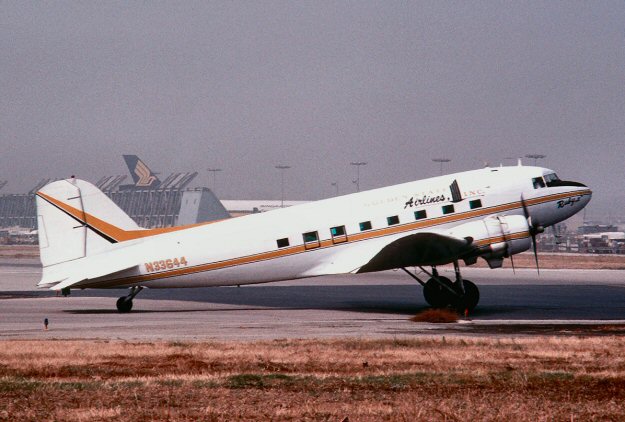 .