Golden State Airlines Curtiss C-46 N9513C (c/n 26754)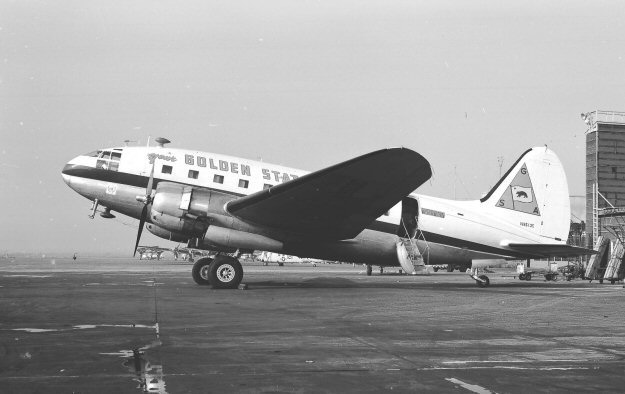 This Golden State Airlines is not the same as either of the two commuter lines* of the same name
which popped up later in California. The above photo was taken by Larry Smalley at Oakland,
CA in September 1958. The titling states "

your

Golden State.....". (Relevant close-ups of this
and the tail number at foot of page). N9513C, the ex C-46A-35-CU 42-3621 may well have
been this small carrier's only aircraft. . It came into Buchanan Field, Concord on 27 November
1958 with a load of passengers destined for the Tanforan Race Track in San Bruno. (This track
closed in 1964). Unfortunately, as was often the case in those days, SFO was fogged in and the
flight diverted to Concord**. Bill Larkins, who took the shot below, indicates that rather than
bus the folks across the Bay they elected to wait out the lifting of the fog. Bill's evocative picture
shows the passengers cooling their heels in Concord's sunshine whilst waiting to continue their jour-
ney. Let's hope they didn't miss too many races!. N9513C was sold soon after these pictures
were taken to Transcontinental SA in the Argentine as LV-PMB. It was later re-registered
LV-FTY and was withdrawn from use in 1962.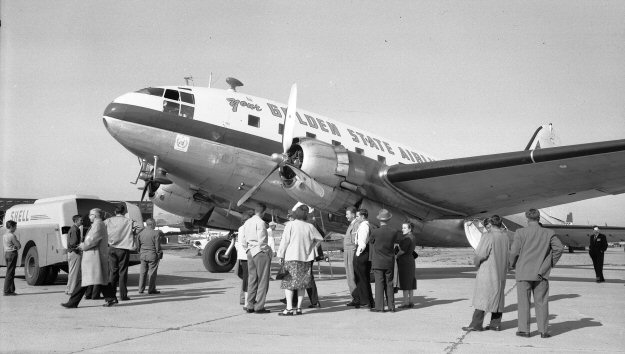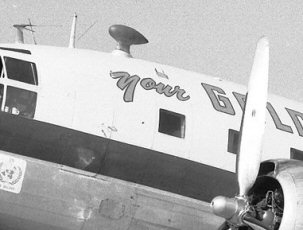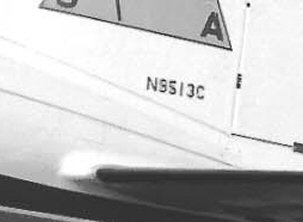 * There was a Golden State Airlines formed at Burbank in April 1968 running a Lockheed 12A and a
Beech D18C. It was out of business by 1969.

Another Golden State Airlines ran briefly out of Orange County Airport (now John Wayne Airport)
in 1985-86 using Cessna 402s. It was absorbed into Stateswest Airlines late in 1986.

** I worked for Western Air Lines during those days and SFO was often fogged in. We always diverted
to Half Moon Bay (HMB) which was quite fun in a Convair 240.