Flying Tiger Line Douglas DC-4 N95414 (c/n 18356)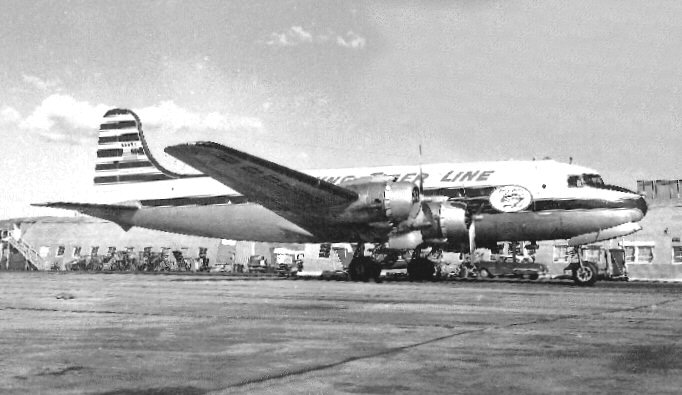 For some odd reason, this photograph, which is an ordinary 616 size negative just will not reduce successfully
to 625 pixels with any degree of resolution as regards the tail stripes. I have put out a 2200 pixel version of
it here, for modelers, etc, and also an enlargement of the tail showing the registration below. This shot was
taken at Oakland in 1954. Several of Flying Tigers' DC-4s had Slick Airways' style stripes on the tail, like
this one does. Odd, since it was never a Slick machine. N95414, in fact, was an ex Northwest Airlines
DC-4 acquired by FTL and flown by them from February 1954 until September 1957 when it was sold to
Pacific Western Airlines as CF-PWA. In the meantime it did a stint in 1957 for two months leased to Ariana
Afghan Airlines as YA-BAG. It had many other US and Canadian owners over the years until it was wfu
at McAllen, Texas in 1982. .